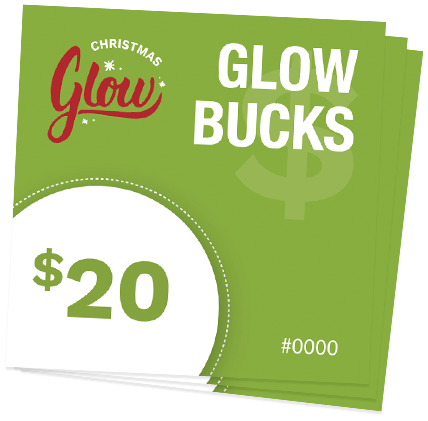 Glow Bucks function just like cash and can be used to purchase any merchandise from our vendors including our licensed bars, food vendors, the Glow Store, or at any of the booths in the Merry Makers Market.
Glow Bucks come in $5.00, $10.00 or $20.00 denominations.
Glow Bucks are a great way to ensure you and your guests have a great time without going over a predetermined budget. Plus, if you're sending someone special to Glow, or hosting a private function, you can make sure your guests and friends can treat themselves to gifts, refreshments, whatever they're in the mood for.
If you don't spend all your Glow Bucks during your visit, you can transfer them to a friend or family member.
Purchase Glow Bucks online only through the ticketing platform in the merchandise section.

No minimum purchase
Glow Bucks are dollar for dollar for cash value displayed on the front of the ticket.
Glow bucks are non-refundable and cannot be replaced if lost or stolen.
Once you have ordered, you will received confirmation of your purchase by the email address you purchased the tickets from. Bring your confirmation to the Glow store in the market to receive your tickets.